Snap-On Smile™ is a dental appliance that involves no drills, no cutting down of existing tooth structure, no needles, and it's removable. It's non-invasive, meaning it is also reversible. They fit directly over existing teeth and can be applied to a variety of situations.
It's made with a specialized resin which allows the appliance to be made as thin as .5mm without compromising strength. Its simple patent design allows a patient to eat without any impingement into the gums.
What kind of material is it made out of?
Snap-On Smile™ appliance is made out of a crystallized type of resin called "Acetyl Resin". It is unlike acrylic, which makes it more durable and non-staining. The material is also used in heart valve replacement and other minor applications in dentistry. NASA uses it as well within their aircraft cabinetry for its durability. It is very strong and it polishes beautifully.
Who's a Candidate?
Any patient looking for an affordable cosmetic alternative to permanent dental work is a Snap-On Smile™ candidate! Well suited for instant gratification, dental phobic and or medically compromised patients, such as chemo or radiation treated patients.
It can also be used in some cases of periodontal disease, as a periodontal splint for mobile teeth by strengthening the teeth going through periodontal treatment. The splint is also helpful because the patient can easily maintain excellent oral hygiene.
Snap-On Smile™ appliance is also ideal for those patients considering a more permanent restoration like veneers, which allows them to take their new smile for a test drive. For others Snap-On Smile™ gives them options they never had before.
For more information, please visit www.snaponsmile.com.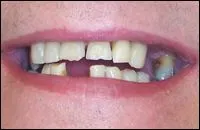 Before and After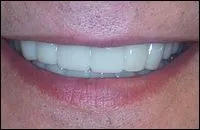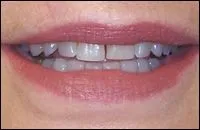 Before and After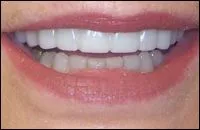 | | |
| --- | --- |
| | |
| Before | After |
| | |
| Before | After |
| | |
| Before | After |
| | |
| Before | After |
| | |
| Before | After |