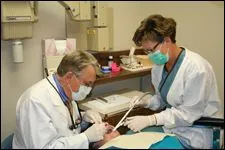 At Clarida and Clarida Dentistry we treat patients of all ages, offering a full array of dental services. We provide Preventative, Restorative, and Cosmetic procedures from routine cleanings and fillings to tooth whitening and porcelain veneers.

Below is a list of some of the dental services we provide and brief description of each.
Cosmetic Dentistry
There is no reason to hide behind a less-than-perfect smile. After all, a clean, healthy mouth and a beautiful smile are your best assets. Dr. Clarida and Clarida specialize in a variety of cosmetic dentistry procedures, including bonding, crowns and veneers. We are devoted to creating the dazzling results you want and deserve - whether that requires delicate enhancement or more complex procedures. We offer patients a wide range of these procedures including Zoom teeth whitening and porcelain veneers at our office.
| | |
| --- | --- |
| | |
| Before | After |
---
Smile Design
Based on your natural teeth and specific facial features, Dr. Clarida and Clarida can custom-design a beautiful smile exactly suited to you. We employ a wide array of techniques – including veneers, crowns and onlays – to create a stronger and more aesthetically balanced smile. Then for a finishing touch, we polish off your new look with teeth whitening for a stunning, beautiful new you.
| | |
| --- | --- |
| | |
| Before | After |
---
Porcelain Veneers
One of the most dramatic breakthroughs in cosmetic dentistry is the creation of porcelain veneers. Veneers are fine pieces of carefully shaped porcelain that, when bonded to your teeth are natural and beautiful looking. They can be used to close spaces, lighten color, correct contour, properly align your teeth, and restore teeth to their original aesthetic and practical functions. An excellent alternative to crowns, veneers can perfect your smile by masking stains, hiding chips, correcting misalignment, and creating uniformity. In just over the course of a few visits to our office you can obtain a beautiful, white smile with porcelain veneers.
| | |
| --- | --- |
| | |
| Before | After |
---
Bonding
A smile can be dulled by chipped, stained, cracked or misaligned teeth, but bonding can quickly and painlessly restore your smile's natural beauty. During the procedure, a thin coating of plastic resin is painted over the damaged teeth, strengthening them and making them virtually indistinguishable from natural teeth.
| | |
| --- | --- |
| | |
| Before | After |
---
Invisalign
Invisalign is the "invisible" way to straighten your teeth without wearing conventional metal braces. Invisalign uses a series of clear, removable custom-made aligners to move your teeth. Because you remove your aligners before you eat and drink, there are no food restrictions or problems with flossing or brushing. This technology is also more comfortable, avoiding the mouth abrasions that can be caused by the metal and wires of conventional braces. And this technology is also more convenient, since you are likely to spend less time in the doctor's office getting adjustments.
---
Porcelain Crowns
If you have teeth with serious cosmetic and structural problems, porcelain crowns may be a good way to restore your smile as well as your ability to enjoy the foods you love. Crowns are lifelike synthetic teeth that can completely cover a problem tooth. They are an excellent option when your teeth still have strong, healthy roots.
| | |
| --- | --- |
| | |
| Before | After |
---
Inlays & Onlays
Similar to fillings, inlays and onlays fill cavities and other areas of trauma or decay in the teeth. They are also called indirect fillings. Unlike regular fillings, however, which are composed of a soft material that is molded into the tooth during the dental visit, indirect fillings are shaped in a dental lab and then firmly cemented into place by the dentist. Inlays fit into a cavity while onlays lay on top of the tooth to build up a damaged cusp. They are generally much more durable and long lasting than regular fillings. If it is necessary for most of the tooth to be covered, we will provide porcelain crowns.
---
Missing Teeth
If your teeth are badly damaged or decayed and cannot be saved, we are able to replace the extracted teeth with a range of different options including dental implants.
| | |
| --- | --- |
| | |
| Before | After |
---
Dental Implants
Missing teeth can present many problems, from the obvious difficulties with biting and chewing, to the gaps left in your smile and the loss of definition in your face that accompanies those gaps. For many patients, a dental implant is often the most effective, natural looking way to replace a lost tooth.
---
Teeth Whitening
Many of us feel that our smiles are most striking when our teeth look especially white, but unfortunately, soft drinks, coffee, tea and tobacco can leave ugly stains. To help restore your gleaming, bright white smile and to give you an added boost of confidence, our in-office whitening procedures work safely and comfortably during the day or at night while you sleep. Tooth whitening is an easy way to improve your appearance and brighten your smile. You can have beautiful, white teeth and the smile you've always wanted in just a few weeks.
| | |
| --- | --- |
| | |
| Before | After |
---
How Zoom Works
Discuss Dental developed the Zoom light activated gel after years of research, the leaders in professional take-home tooth whitening. The gel is scientifically formulated, pH balanced Hydrogen Peroxide that, when activated by the Zoom light, gently penetrates the teeth only to remove deep stains and discoloration, while leaving the structure of the tooth unchanged. With proper care and occasional touch ups at home, your whiter smile will sparkle for years.
---
Preventative Dentistry
Preventative measures can do wonders for your dental health. A few simple homecare practices paired with regular visits to your dental professional will go a long way toward maintaining optimal oral health. Daily preventative procedures share the common goal of removing bacteria from the mouth. If bacteria is allowed to build-up and adhere to the teeth, tongue and soft tissue, it becomes plaque that over time can mineralize into a hard substance called calculus. Only professional cleanings can remove calculus.
---
Cleanings and Checkups
We recommend that you come to Clarida and Clarida Dentistry at least once every six months to have your teeth professionally cleaned. We'll also do a thorough exam to make sure that there are no problems you are unaware of.
---
Fluoride Treatments
In addition to routine cleanings, we also offer fluoride treatments to our patients. Fluoride has been proven to strengthen teeth and make them more resistant to decay.
---
Sealants
To further protect teeth from the causes of tooth decay, we can apply a sealant to them. This material coats teeth, creating a barrier that decay-causing substances cannot penetrate.
---
Tooth-Colored Fillings
Our goal is to achieve undetectable dentistry. For years, silver (amalgam) fillings were primarily used by dentists to fill cavities. Today, modern, tooth-colored fillings made of durable resin or porcelain can be bonded to your teeth for a stronger, more natural-looking effect. After you have a cavity filled at our practice, you may not even be able to tell which tooth had the work done!
| | |
| --- | --- |
| | |
| Before | After |
---
Endodontic (Root Canal) Therapy
Inside of each of your teeth is a mass of nerves and other tissue called the "pulp". Occasionally, the pulp can become infected, causing pain and tooth decay. Endodontic therapy, also known as a "root canal," is a technique we use to remove the infected pulp and save the tooth, so an extraction is not necessary. We perform endodontic therapy by drilling through the crown of the tooth, and cleaning out any damaged pulp. We then fill the gap and seal the tooth with a natural-looking porcelain crown.